Friday, Dec 21st, 1917
Reveille 5. 6 o'clock fell in for submarine guard. Two relief mount at 8 -10. Weighed anchor 6:30, sailed 6:45 smooth water till out to sea then awful heavy swell. Sick on guard. Boiling sea through day. Another trooper with us, escorted by three torpedo boats, 2 R&DA ?? Still rough during night and sick every turn. Never eaten since breakfast. Shortest day.
Protection against the Submarine
The HMS Kashmir was obviously leaving harbour as part of a small convoy, with one other troop carrier and three torpedo boats. (Note: we haven't been able to decipher the 2 R&DA reference. Any ideas?) Travelling in convoy was the most effective way of combating the U-boat threat. The torpedo boats were agile and, with speeds up to 30 knots, would have been able to defend the convoy through counter attack using a mix of torpedos, depth charges and machine guns.¹
Submarine Warfare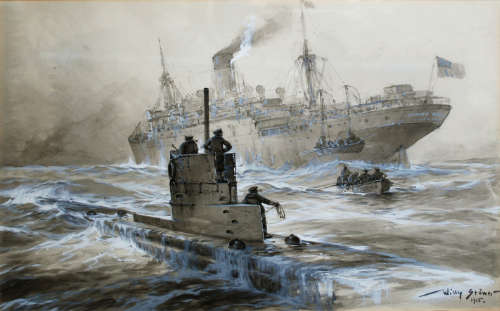 The U-boats of the First World War were not sophisticated and did not have technology like sonar or radar to help find their targets – therefore they were less likely to just come across vessels travelling together.  Of flimsier construction than subsequent models and requiring to spend a lot of time on the surface also made them more vulnerable to counter-attack.
This powerful painting is by  artist Willy Stöwer.  It was partly propaganda for the German people.  The Linda Blanche was sunk, but was actually a much smaller coastal trader than depicted.  The crew was saved as per the rules of 'prize law'. Once the lifeboats were clear of the ship it was sunk using explosives.
Over the course of the war, the Germans had twice abandoned the internationally agreed tenets of prize law and declared 'unrestricted warfare' using submarines. This meant that the Germans would attack enemy and neutral shipping without warning. The first declaration had been in 1915, resulting in the sinking of the Lusitania, and short-lived due to the international outcry from neutral countries, particularly the USA. The second occurred in February 1917, by which point Germany had more than three times the number of U-boat than at the beginning of the war. Consequently, the Allied losses in the early part of 1917 had been staggering, with over 860,000 tons in just the month of April alone.
Benefits of the Convoy System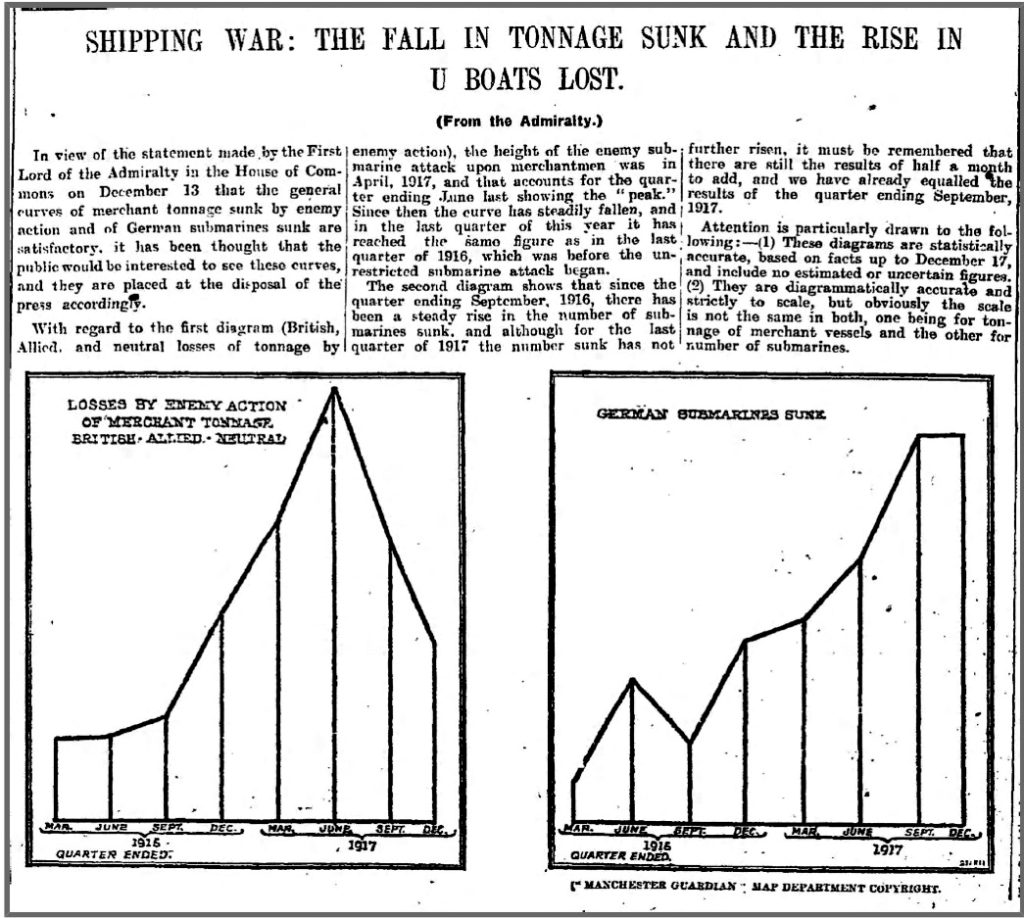 Against Admiralty opposition, Lloyd George and the War Cabinet insisted on the use the convoy system to counter the U-boat threat and the tactic immediately had a impact and losses were slashed dramatically. British losses reduced from 25% to 1% of tonnage under sail and instead the tables were turned and the Germans started losing U-boats faster than they could replace them.³ This point is ably illustrated in this article in the Manchester Guardian that appeared on this very day in 1917.
Poor Frank has clearly not gained his sea legs yet on this, the shortest day of the year.
References & further reading:
¹ Wikipedia article on Torpedo Boats
² 'The Sinking of the Linda Blanche' – Dawlish Chronicles (for more on the artist, the episode & the U-boat)
³ AJP Taylor 'The First World War: An Illustrated History' Penguin Books
* 'The sinking of the Linda Blanche out of Liverpool' by Willy Stöwer (image may be subject to copyright)
** copyright 2017 Newspaper.com
'Submarines & submarine warfare' by Mark D. Karau