Sunday Jan 6th, 1918
Sunday a very strange day, but much warmer and nicer. No parades. Bread, cheese and jam for rations. Awful dinner only warm water.  Had a walk in afternoon, sat on a hill where I could see all Salonika & bay and, in different valleys, 13 different camps.  Wrote home 4th letter.
Contrasts
Frank is cheered by the warmer weather but once again disheartened by his poor food. Contrast this with the Scottish poet and writer Hugh MacDairmid's experience. He was posted as 'Sergeant-Caterer of the Officer's Mess' to the 42nd General Hospital in Salonika. In August 1916, he wrote to a friend:
The Sergeant-Caterer of the Officers' Mess (that's my new post in our little military world here) has to go 'on deck' at dinner – dinner commencing at 7.30 p.m. and running to some five courses – freshly-shaven, boots and buttons mirror-bright, properly dressed with belt and all. He does nothing, of course, save supervision. A spot of tarnish on a knife or fork – lack-lustre of a wine glass – uneven flaming of one of the hanging lamps – slackness on the part of the waiters – slow, slovenly, or uneven dishing-up on the part of the cooks – what an eye one develops for detail on such a job! […] and later when the Mess has come to the walnuts and almonds and the wine-steward is busy supplying Vin Blanc, Vin Russe, or Vin Muscat de Samos […] the Sergeant-Caterer and his staff dine too. (What an awful war, to be sure!)¹
The Birdcage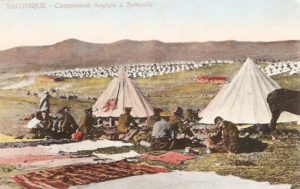 Being in a reserve camp, away from the front lines allowed the men stationed around Salonika a greater amount of freedom. Today Frank enjoyed a walk on one of the many hills around Salonika, amazed at the views of the countryside and the many camps spread around.
The camps sat in and behind the Birdcage.  The Birdcage was a defensive line across the open ground about 20 miles north of the city of Salonika. It had been established in 1915-16 and, while the terrain was very rocky, it was heavily fortified.  It was safeguarded by such an amount of barbed wire that the line and the area behind it became known as the "Birdcage".
Barbed Wire
Nicknamed 'devil's rope' by the troops, barbed wire was used by both sides and on all fronts during World War I.  It was originally invented in the USA to keep herds of animals contained. However during WWI it was refined by both sides to become ever more effective in war. It was cheap to manufacture and relatively easy to deploy yet very useful.
Highly resistant to bombardment it was an effective defence. It was also used aggressively by funnelling the attacking forces into "kill boxes":  lines of barbed wire would force troops into places where they were vulnerable to the machine guns and artillery of the opposing side.
References & further reading
* image may be subject to copyright
¹Untold Stories of people during the First World War  the University of Edinburgh
'MacDiarmid – Christopher Murray Grieve: A Critical Biography' by Alan Norman Bold
Barbed Wire War on Military History Now