Wednesday Jan 16th, 1918
Tired and feeling overfed.  Good breakfast, plenty of bread.  CO inspection 9am. ?? 11:30am. Parade 12:15. Left 12:45 arrived at rail head 1:30 and left for lines 2:30.  Arrived Cugunci 6:30.  Hours march through darkness to Battalion transport dump.  Tired out, made us some tea 10:30pm. Very welcome.  Johnny sending flare lights and shells all night.  First taste of gunfire.
Up to the Reserve Lines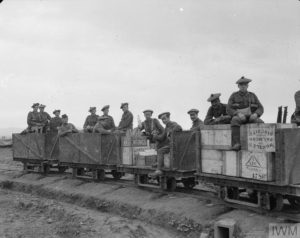 Today Frank begins his journey to the reserve lines. Of all Frank's experiences to date, travelling ever closer to the enemy must have been amongst the most testing.  Moving up from the Summer Hill camp, Frank and his comrades proceed to Cugunci. Much of this journey was made by way of a light railway and would be similar to the one pictured here.
Mass movement of troops and supplies is key to the effectiveness of any military force. Therefore, since arriving in Macedonia, the Allies had worked hard to improve transport routes, including roads and rail tracks.   While sometimes unreliable and uncomfortable, the railway was still vastly preferable to covering such distances on foot with full kit.
Supply Chain
After a six hour journey by rail and on foot, Frank and his comrades then march to the 13th Battalion transport dump. The dump would have been a key staging post in the supply chain, ensuring that those at the front had adequate provisions of ammunition and supplies. Extrapolating statistics in an article by Mark Whitmore, the 13th Battalion which comprised 1,000 men would require over 80 tons of food, munitions and other supplies every day.¹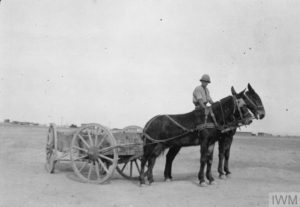 Frank now finds himself within three miles of the front line. We think he is somewhere close to the west bank of Lake Dojran.  Luckily for Frank, the Battalion he is about to join is, this evening, being relieved from the front line by the 9th South Lancashire Regiment.  He will therefore being joining the 13th on the reserve lines. From now on, Frank's journeys, as he moves back and forward between the front and reserve lines, will be on foot.  Only supplies and the infirm will be transported, and this will be mainly by mule or mule and lumber (as illustrated).
13th (Service) Battalion War Diary – 16th January 1918 – Minden Camp, No.1 Sector

Our artillery fired at intervals through the night keeping the enemy from wiring on O3. Enemy artillery consequently more active. Enemy trench mortars were somewhat more active on the usual spots. Enemy snipers were fairly busy on B2 from O1. By day both artilleries were fairly active. The Battalion was relieved in No 1 sector by the 9th South Lancs Regt. On relief the Battalion manned the second line as described in Operation Order No 31 and moved to camps as follows: A Coy to Hampshire Ridge Camp, B Coy to Bodmin Camp, C Coy to Deep Cut and D Coy to Elbow Ravine. HQ moved into Vladaja Camp. Relief was complete by 23:00hrs and the Battalion arrived in new camps by 02:56 on 17-1-18 when the Battalion became Brigade Reserve. 
References & further reading
¹ Transport & Supply During The First World War by Mark Whitmore, IWM
Light Railways, 801 MT COY ASC, accessed (15/01/2018)
Whitmore, M. Transport and Supply During the First World War, accessed (15/01/2018)
* Original source IWM Q32645
** Original source IWM Q57790