Tuesday Feb 5th, 1918
Day work.  Johnny lively enough but we arrived safe back.  Very cold indeed, terrible cold. Looking for letters.
Looking for Letters
Frank has now been away from home for over two months and still has not received any mail from his wife, other family or friends.  Apart from his Army training in the summer of 1917 and perhaps the occasional trip to the seaside, Frank had probably never been more than fifty miles from home in his life before.  Yet, here he is, in Salonika, thousands of miles from home and has no idea how his family is faring.
His wife, Sarah Elizabeth, is working in a local cotton mill alongside her sister-in-law.  Their daughter, Olive, is now living with his mother-in-law and great aunt.  While the civilian casualties are low, air raids continue to scare. He must have been very worried.  No wonder he is 'looking for letters'.
Vladaja Gas Chamber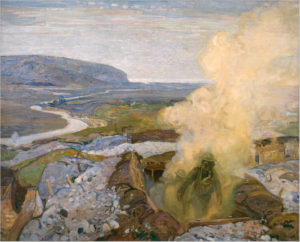 Today's Battalion diary notes that the 'gas chamber' is available for use for the next couple of days.  These chambers had been built to allow the troops to practice putting on and wearing their gas masks in a simulated, relatively safe environment.  This powerful painting was made by FH Varley in 1918 in East Sussex in England while he was with the Canadian Army.  You will see a line of soldiers, in a cloud of gas, emerging from what looks like a covered trench.
After the war, Varley went on to become one of the 'Group of Seven', arguably the most influential and  famous Canadian artists of the 20th Century.
The following clip of film footage is of the drills undertaken by US troops preparing for the front line and the dangers of gas attacks.   It is an extract from a longer clip, the link for which is posted below.  Watch out for the manually operated 'trench fans' designed to waft the gas away from the trenches.
Whether in the chamber in Vladaja or on the practice fields, the gas being used was tear gas. While not poisonous, it would be still enough of an incentive for all the troops to want to get it right first time.
13th (Service) Battalion War Diary – 5th February 1918 – Vladaja Camp

The Vladaja gas chamber is allotted to the Battalion for the 6th & 7th inst. 1 OR struck off in accordance with GRO 1011 with effect from 5-2-18.
References & Further Reading
'Gas Chamber at Seaford' by FH Varley,  Beaverbrook Collection of War Art in the Canadian War Museum,
Gas Mask & Chemical Warfare Training 1918 WWI , on Youtube. From the 1918 film CHEMICAL WARFARE ACTIVITIES IN THE A.E.F, 1918, available at the US National Archive in College Park, Maryland