Sunday February 10th, 1918
Late for Breakfast so last for rations, orderly too busy packing up.  Left Bodmin Camp for Silbury Camp and B Sector line at 6:30. Awful march – tired out about this march.
To Silbury Camp
Operation Order No. 32, issued three days ago by the CO Lieut-Col JFB Morrell, gives very precise instructions for the movement of the 13th to the front lines.  As specified in today's Battalion diary entry, each Company is to go to a different camp.  For Frank and B Company this is to be Silbury.
A small advance party from each company has to go to the new camps in daylight today to take over camps, stores and work etc..  Receipts for stores and 'clean camp certificates' are to be sent to HQ by 15:00.  The bulk of the 13th cannot start moving off until 18:30 and platoons have to be 200 feet apart from one another during the march.  Presumably this is to avoid being spotted by the enemy and to minimize the impact if they are.  Unfortunately for the Battalion, tonight's move does not go off as planned.  One man of C Company is wounded en route to Wylye Camp and D Company is harassed by shell fire.
After missing breakfast today and a hard march, Frank would have been pleased to know of instruction No. 6: 'Rations for consumption on the 11th instant will be delivered at new camps by 20:00 hours on 10th instant.'
Transport Allocation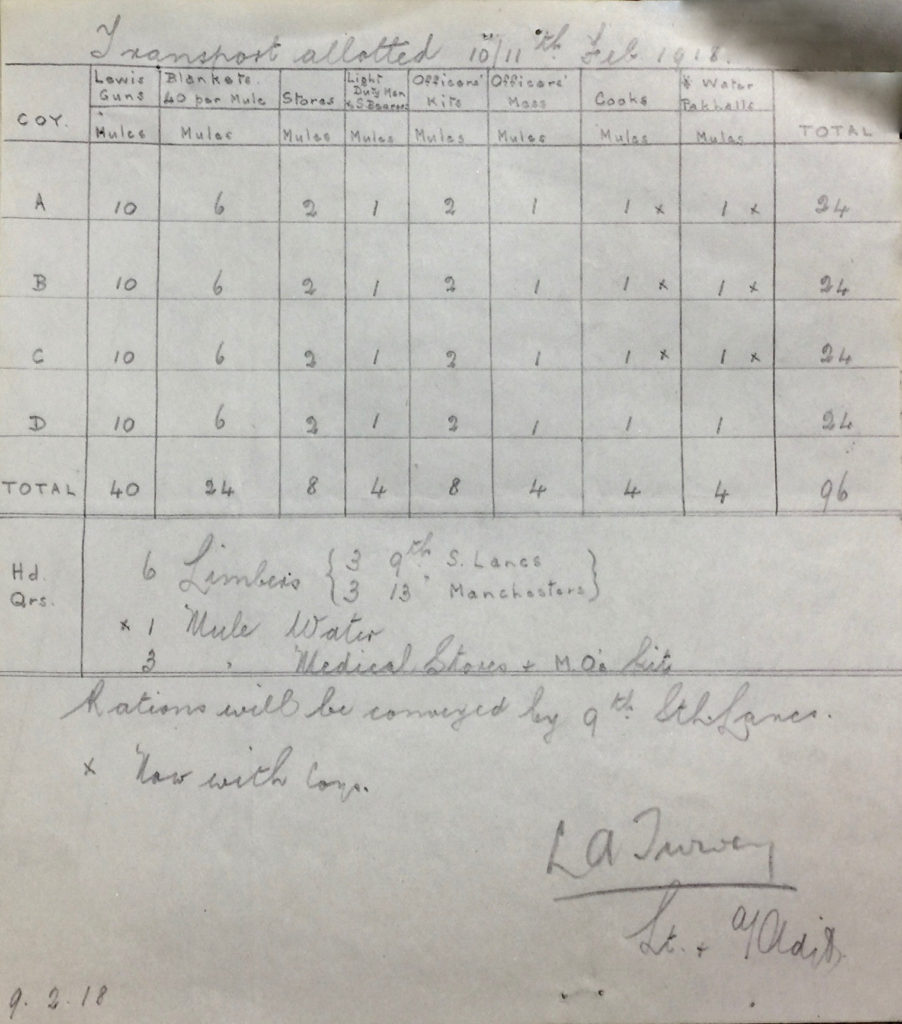 The hand written list on the left, details the mules and limbers allocated to transporting everything from Lewis Guns to blankets and Officers' kits.

This photograph shows British mule-drawn limbers near Daudli, north of Salonika in July 1916.

British mule-drawn limbers, Salonika, 5 July 1916. Copyright: IWM (Q 78047)**

13th (Service) Battalion War Diary – 10th February 1918 – Vladaja Camp 

Church Services and usual. The Battalion relieved the 9th South Lancs in No 1 Sector. Relief was complete by 21:25 hrs. Coys as follows:- A Coy to Swindon; B Coy to Silbury; C Coy to Wylye; and D Coy to Dojran Road. Batt HQ at Minden as before. A & B Coys got in position without incident. C Coy had one man wounded by shellfire between Wylye Camp and B8. D Coy got the tail end of the Coy in a short burst of shells but no-one was touched. The rest of the night was quiet. Extract from List No 88 'Appointments, Commissions and Rewards':- Order of Kara George (with swords) Bt Lieut-Col (Act Lieut-Col) AFC MacLachlan DSO, KRRC lately attached Manchester Regiment. 1 OR having rejoined from Divisional Signal School is again taken on from 9-2-18. A draft of 65 OR having arrived is taken on from 9-2-18.
References & Further Reading
'13th (Service) Battalion War Diary', February, Appendix I, Transport Allotted, National Archive, Kew
** Image Q 78047, copyright Imperial War Museum