Wednesday February 13th, 1918
Stand to 5:30. Dismounted guard 9am. No duties till night work. Wrote home 15th letter. Stand to 6:20. Work wiring dead man's ravine. Safe return. Received letter from home and brother Joe and 10 shilling note.
Map of the Camps
The following map extract shows the approximate positions of the camps on both the front and reserve lines.  We  have created it, by taking information from the Battalion diary and overlaying this onto the official Dojran map¹.
On the front line, the troops are much more concentrated, with the 800 strong battalion in five camps only a few hundred yards from one another.   They are also only about a thousand yards from the enemy's lines. It is interesting to note that technically the 13th, while on the front line, appear to be in Serbia.
The map's coordinates are shown on the left and at the bottom of the following in green ink.  They are used extensively over the next few days of the Battalion's diary.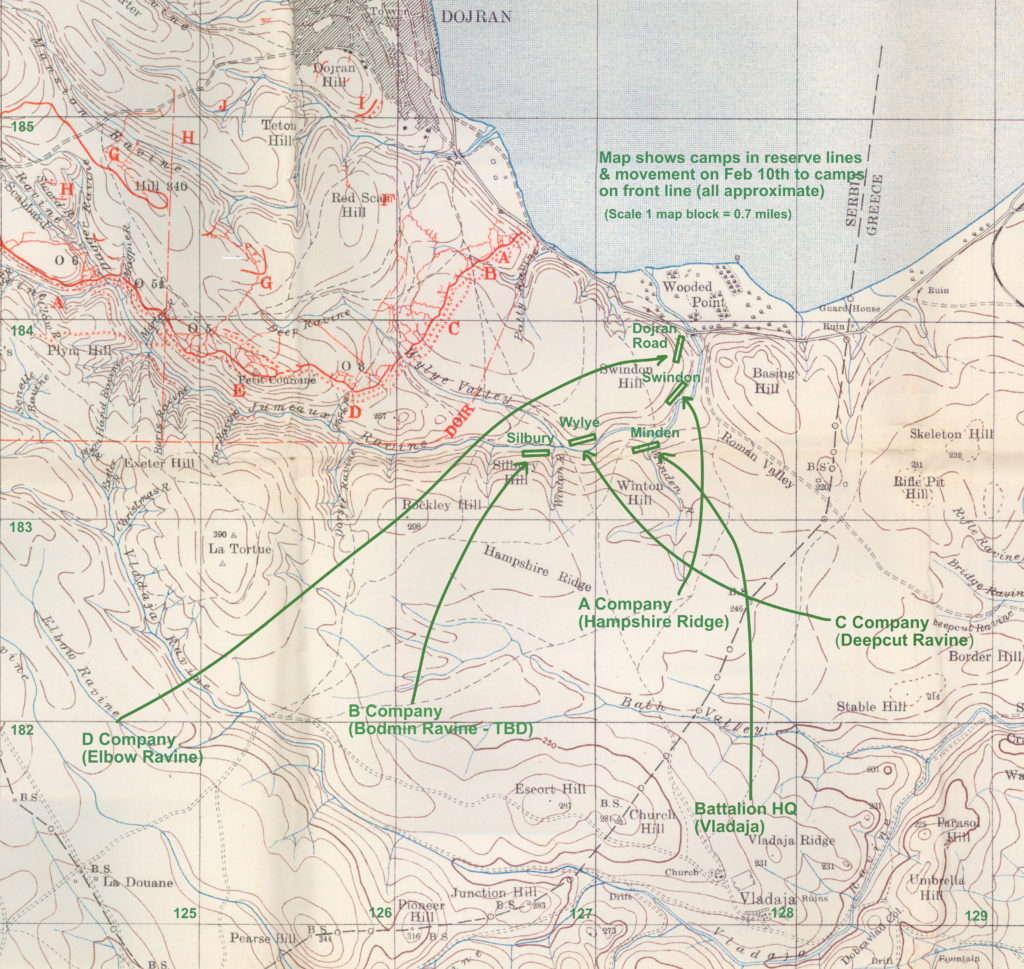 13th (Service) Battalion War Diary – 13th February 1918 – No 1 Sector, Minden Camp 

Moderate artillery fire on both sides also Trench Mortar activity. Our Machine Guns were active and the enemy's inactive.  Several enemy planes passed over during the day. Usual patrols – nothing seen or heard of the enemy. Work was observed on Hill 340 appeared to be construction of dugout or Machine Gun emplacement.  The artillery were informed and work was stopped. Amount of fat returned for week ending 12-2-18 was 24 lbs. 1 OR compulsorily transferred from the Royal Engineers (Railway Troops) with effect from 17-1-18. 1 OR as above from ASC with effect from 9-2-18. 2 OR as above from ASC with effect from 10-2-18. 1 OR as above from Labour Corps from 10-2-18, 8 OR as above from RAMC (Royal Army Medical Corps) from 10-2-18.
References & Further Reading
¹  Dojran Map, Edition 3A, June 1917 from the Digital Archive at McMaster University Library, Canada