Wednesday, Jan 2nd, 1918
Reveille 6:30. Breakfast 7:30 – bacon and bread. Jam & bread for tea. Beef and potatoes for dinner. Fine and camp ground drying. Met Dickinson from Shaw – had come from Con Camp and had met Harold Greenhalgh. Inspection at 3pm by Commanding Officer. Lieutenant Rowe bade us farewell and good luck. Commenced to rain tea-time. Tent full, no room to sleep, cold towards night. Second letter home.
Friends & Strangers
Frank's second day in Salonika was a relatively cheerful one. Receiving three square meals would surely have pleased our ever-hungry Private and meeting Dickinson³, a friend from Shaw, would have raised his spirits. Harold Greenhalgh, who is also mentioned in this entry, was probably Frank's teenage nephew.  Frank's brother-in-law, Fred Sutton, was also serving with the British Salonika Force.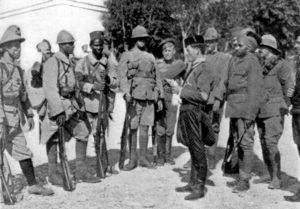 Despite these friends from home, the Salonika forces overall were made up of many nationalities. G. Ward Price, an American war correspondent, wrote a piece about Salonika for his US readership in mid-1917. It included this photograph of what he described as the 'Polyglot Army in the Balkans'.¹
Read more about the Macedonian Front.
Challenges of Salonika
Price also described the relative challenges of resupplying the Allies and the Central Powers on the Macedonian Front. His conclusions were  a few hundred miles of train travel for the latter and 3,000 miles of land and sea for the former:  'In case of need, the enemy can rush a whole division of reinforcements with all its equipment out to the Balkan front from Germany in six days. I should think it would take us three weeks at least to put through a similar process on our side.'¹
Lena Ashwell also had some interesting tales from British officers she met in Malta: 'There are many officers from Salonica, who all tell the same tale of its difficulties and dangers, and the awful climate. They paint its drawbacks and inhabitants graphically; the cosmopolitan life, the fever, and the loneliness. Dr. Pick, who is on a boat running between Malta and Mudros once in three months, describes Salonica as " the last thing in Hades." How our men loathe it. They laugh heartily when we ask about Salonica. Some of them have been to France, and all of them prefer it. Their tales of Salonica are on a par with the rest : spies, disease, discomfort.' ² 
All of this lies ahead for Frank.  Cold but well fed and amongst friends, he probably thought life was on the up.
References & further reading
¹ 'The Story of the Salonica Army 1915-1917'. by G. Ward Price
²  'Modern troubadours, a record of the concerts at the front' by Ashwell, Lena, 1871-1957 (Kindle Locations 1284-1293). London, Gyldendal.
³ Private Samuel Goodwin Dickinson, 39126 of the Manchester Regiment's 13th Battalion.  In August 1918 the 13th were absorbed into the 9th Battalion and in May 1919, Private Dickinson, along with some other soldiers, was transferred to the Cheshire Regiment where he was allocated the service number 69504. He lived at 24 Blakelock St, Shaw. This information is courtesy of Charlie, a global moderator with themanchesters.org