Thursday Jan 17th, 1918
Rose 8:30 Breakfast 9am.  Dozed the morning away, gun fire all the while. Three miles behind line.  CO's inspection 2 o'clock. Bayonet practice.  Our big guns start barrage 6 to 8, 9 to 12 and Johnny replies both heavy.  Quiet after 12.
Artillery Fire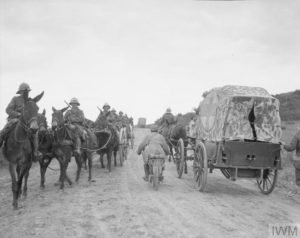 Now that Frank has joined up with his Battalion, we can see his experiences reflected in that of the Battalion Diary. Both diaries identify the central event of the day as being a prolonged and heavy exchange of artillery fire. Artillery was elemental in WWI and led to many of its most defining characteristics: trench warfare, stalemate and unprecedented destruction.
The Royal Artillery was largely mobile and its Batteries were organized according to the size of guns, howitzers and mortars being used. In Salonika, there were Heavy Batteries in command of horse-drawn 60-pounder Mark I guns; Siege Batteries of tractor-drawn 6″ howitzers; Mountain Batteries of mule-drawn 2.75″ mountain guns as well as Trench Mortar Batteries and Anti-Aircraft sections. They were organized at pan-Army and, to a lesser extent, Divisional levels.¹²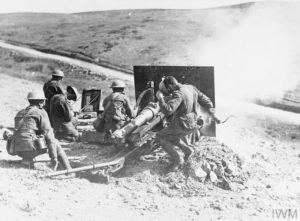 As such it is difficult to tell which units were firing these guns and what the exact makeup of the batteries were.  Nevertheless we do know that their role would have been to target enemy artillery, defences, trench networks, supply dumps, transport links and, of course, troops.  It is good to know that, despite the power and ferocity of these great guns, our trusty Private manages to 'doze the morning away'.
The Kiss
Frank is again engaged in bayonet practice today. Such training was carried out to keep the men sharp and encourage the "offensive spirit". A blood-curdling poem about the bayonet was penned by Siegfried Sassoon. Apparently the poem was inspired by the "homicidal eloquence" of a Major lecturing on the use of the bayonet. In contrast to his other work, it lacks the anti-war sentiment for which he is renowned. Later, Sassoon expressed regret that 'The Kiss' lacked the overtly satirical edge of his other works and could be interpreted as glorifying war: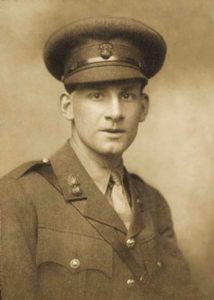 To these I turn, in these I trust;
Brother Lead and Sister Steel.
To his blind power I make appeal;
I guard her beauty clean from rust.
He spins and burns and loves the air,
And splits a skull to win my praise;
But up the noble marching days
She glitters naked, cold and fair.
Sweet Sister, grant your soldier this;
That in good fury he may feel
The body where he sets his heel
Quail from your downward darting kiss.³
13th (Service) Battalion War Diary – 17th January 1918 – Vladaja Camp

Battalion rested and washed and cleaned. Enemy artillery retaliated with some heat to a sharp bursts of fire from our guns. 1 OR, groom to DGO, is struck off effective strength from 17-1-18. 11 OR having rejoined are again taken on. Programme of work and sketches for same are attached (Appendix III).
References & further reading
¹ Royal Garrison Artillery, The Salonika Campaign Society 1915-1918, accessed (16/01/2018)
² Royal Artillery, The Long Long Trail
³ Sassoon, S. The Kiss, All Poetry, accessed (16/01/2018)
Kendall, T. 2009. A Short Post about Killing, War Poetry, accessed (16/01/2018)
* Operations in the Struma Valley, copyright IWM
** Firing a 2.75 inch mountain gun in Salonika, copyright IWM