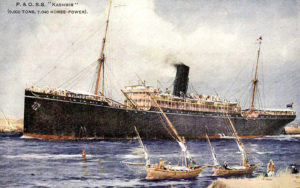 The Kashmir was built on the Clyde in Scotland on behalf of the Peninsular & Oriental Steam Navigation Company in the early part of the war¹. P&O had commissioned this cargo liner for its Far East routes. Unlike tramp steamers which went where the freight and business demanded, cargo liners had regular scheduled routes. The Kashmir was 480 feet long and its beam was 58 feet. Its top speed would have been about 16 or 17 mph.
Troop Ship
The ship was requisitioned by the British Admiralty in December 1916 to serve as a troop carrier, initially in the Mediterranean and then in the North Atlantic. As a cargo liner – designed to carry both cargo and passengers – the Kashmir may have been better equipped than some to carry troops. However she was originally built to hold around 150 passengers, yet Frank records more than 1,200 on board.
Collision with the Otranto
After service in the Mediterranean, HMS Kashmir was redeployed to the Atlantic as a US troop carrier. In September 1918 she was part of a convoy heading for Scotland. The convoy became lost and disoriented in a terrible storm, and just off the coast of Scotland the Kashmir collided with another troop carrier, the Otranto. The Kashmir managed to limp into Glasgow and safely disembark the troops it was carrying. Unfortunately the Otranto, having had over 600 of her passengers and crew saved in a daring rescue by HMS Mounsey,  ran aground in Machir Bay on the Isle of Islay and broke in half. Of those remaining onboard, over 400 men lost their lives and only a handful were saved. ¹ ²
A local American newspaper carried an account by the survivor Dave Roberts, describing how he was saved from the water: 'The waves carried me away from the ship, then one about as high as a house came over me and whirled me around like paper in a whirlwind. I went under. A Scotch lad got hold of a sailor and me and took us to a cottage. All I had left on was my underwear, pants and shirt – one sock. When we got to the shore, they put us to bed. It sure was fine, two pair of woollen blankets. The people there could not have treated us any better.''³
Peace Time
The Kashmir was returned to P&O in 1919, where she resumed her peace time role. She was eventually sold for scrap in 1932 to a Japanese salvage company.
References & Further Reading
* photograph & info from Clyde Ships website (image may be subject to copyright)
¹ Troopships in the First World War on Spartacus-educational.com
² Wikipedia article on HMS Otranto
³ Article written by Lord George Robertson on  Islay Info website