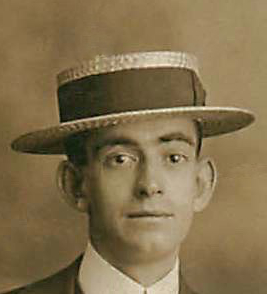 Frank Whitehead was an ordinary man. He was born in Shaw & Crompton in Lancashire, England in January 1888 to parents who felt they already had enough children. Frank was the last of 13 children born to Joseph and Mary Whitehead and one of only eight that survived to adulthood. His mother was 45 when he was born and his eldest sister, Elizabeth, was 27. He was a very ill baby, so much so that he was christened as soon as he was born. Family stories have the maid sitting on the stairs, apron pulled over her face, crying over Frank's plight, whilst apparently his blood relatives were much more sanguine about his fate. Luckily for Frank, and the rest of his future family, he pulled through.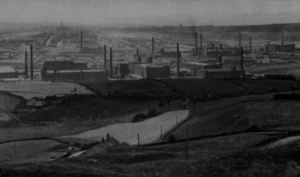 Frank's father was reputedly both a genius and a drunk. Joseph and Mary were raised in nearby Derbyshire but soon moved to Lancashire where Joseph worked in the cotton industry. He started work as a carder and ending up as a Mill manager. Reputedly, he sold his invention (whatever it was) to the mill owner for a bottle of whisky. In contrast, Frank, his mother, and elder sister, Annie, joined the Salvation Army where Frank became an enthusiastic and talented member of the brass band.
Love & Marriage
It was at the Salvation Army Citadel in Shaw that Frank met Sarah Elizabeth Sutton when they were both 18 years old. She was a songster in the choir. Her mother, Mary Ann, widow of James a quarry man, was a passionate Salvationist with a reputation for strictness and godliness that survives to this generation. She did not like Frank's family and tried to split the pair up by sending Sarah Elizabeth to Wales.
Even when she relented to the match, Mary Ann had the notion that none of her children should get married before they were in their mid-twenties and that they should be married in the order of their birth. This apparently frustrated Frank and Sarah because her older brother, Willie, was in no rush to settle down. However they were eventually married in July 1914, just weeks before the outbreak of war. They were 26 years old. Frank, like most members of both their families, worked in a cotton mill and Sarah became a housewife. By mid-1916, they were proud parents to a daughter called Olive. She was named for peace which was very appropriate as, by then, the Great War (famously forecast in 1914 to 'be over by Christmas') was well into its second year.
When no one else in the family could or would take him in, Frank's father moved in with them. It must have been a difficult time for all of them – a drinker in a teetotal household – but very much in keeping with the reformative beliefs of the Salvation Army. There is little evidence that the Salvation Army and its temperance philosophy had much impact on Joseph. Instead there are dramatic family tales of Joseph returning home after a night in the pub.
Joining the Army
Frank had attested to join the war in December 1915 as part of the Derby Scheme under which able bodied men were encouraged to volunteer. As a married man, born in 1888, who selected for deferred service, Frank should have gone to war in May 1916 but apparently appealed on the grounds of family hardship caused by his father's care. In July 1917, and after his father's death in April, Frank was mobilized as a Private into the Manchester Regiment of the British Army. He was 29 years old.
References & further reading
* Article on mills of  Shaw & Crompton  from Wikipedia (image may be subject to copyright)