Thursday, Jan 3rd, 1918
Reveille 6:30. Breakfast bread and bacon. Cheese and jam for rations. PT drill 10 and route march 2:30. Past refugees camp. Warm marching, snow on mountain, cold towards night. Snow storm during night – awful cold.
Refugee Camps
Frank's third day in Salonica brought a return to military life with both physical training drills and a route march. In his typically brief fashion Frank mentions passing by refugee camps. These temporary settlements, exacerbated by the Great Fire,  swelled in size over the course of the war.
Refugees had flooded into the region from surrounding states, particularly Albania and Serbia. Most journeys required treacherous mountains crossings in terrible conditions.  It is estimated that 140,000 Serbian refugees died fleeing from their homeland.  State and non-state organizations, including the Red Cross, sought to aid the refugees, providing clothing, shelter and food. This vital work helped to alleviate the suffering of the refugees.  It  also prevented the spread of disease within both the civilian and military populations.
The presence of the Allies also helped improve the health of the region.  Refugees and locals were able to access better medical care, especially in the provision of quinine, than would previously have been available to them.¹
The refugees also aided the British Army which enlisted many of them as labourers to help maintain the fragile, heavily used transportation networks. Some Tommies felt that this cheap manpower undermined their own Labour Corps.
The British Army Camps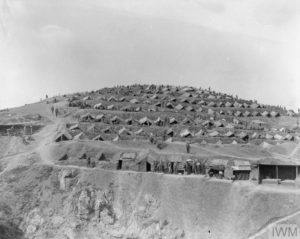 Frank complains of the cold at night.  He and his fellows would still be under canvas.  They were likely to be in a similar camp to the one pictured here.  The photograph depicts a typical British military camp of dugouts and bivouacs on a hillside. It was probably situated behind the Birdcage lines of defence on the Macedonian Front.
References & further reading
¹ 'Under The Devil's Eye. The British Military Experience in Macedonia 1915-18' by Alan Wakefield and Simon Moody (Pen & Sword)
* copyright Imperial War Museums