Tuesday Jan 8th, 1918
Rather dull day. Reveille 5:30.  Fell in for marching away 8:30am.  Iron rations – sick of them.  Feel very hungry and no money.  Hard marching, reached Summer Hill camp about 11 o'clock.  Feeling rather hard lines.  Biscuits for tea rotten.  Hello, Bob Prenty wins a loaf (saved again) and wins tea and jam. Good. Down to it by 8pm. Rained during night. Met RF and chap who said Harold Greenhalgh was in Camp, said he would tell him.
Summer Hill Camp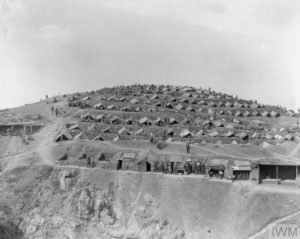 Today Frank arrives at Summer Hill. It was the main British transit camp and base depot in the region. The camp was situated on the Akbunar-Salonica road, a few miles north of Salonika and thirty miles from the front line. Consequently it was a rather safe place, vulnerable only to the occasional air raid, as detailed in yesterday's entry.
Frank does not delve into the details of Summer Hill but further insight can be gained from other sources, such as the diary of Lt. Victor Edward Borgonon. Lieutenant Borgonon tells us that Summer Hill camp was situated on a hill and a prominent one at that. Exposed, the camp was vulnerable to the strong Vardar winds which blew continuously and ensured that those based there had to deal with the most ferocious of the local weather. This included winds strong enough to blow a man over and collapse the canvas tents within which the ordinary Tommy sought shelter. Consequently Summer Hill was a rather miserable place to be and Lieutenant Borgonon notes his delight at leaving after spending nearly twenty days there.
Despite the importance of the Summer Hill Camp, finding photos of it seems to be rather a struggle. Instead here is a photos that may give you an idea of what similar, if smaller, British camps around Salonika looked like. Note the canvas tents and the exposed location upon the barren hillside.
Family and Friends
Frank, at Summer Hill only a month earlier than Borgonon, would have been subject to the same awful weather that the Lieutentant describes. With that, the poor food rations, hard marching and lack of money we have ourselves a very unhappy Private. Yet fortunes for Frank change when his friend, Private Robert "Bob" Prenty (304090)² wins a loaf of bread, tea and some jam. Moreover there is a chance for a family reunion on the cards. Up until this point Frank's contact with his family had been limited to one-way letters home, yet in Summer Hill, Harold Greenhalgh, Frank's young nephew of 21 was somewhere to be found.
References & further reading
The diary of Lt. Victor Edward Borgonon is available here, it is a great and very informative read
² With thanks to Charlie and others of the Manchester Regiment Forum for their invaluable help
Image copyright IWM (Q31865)