Thursday, Jan 10th, 1918
Terrible storm, raged all night through and still raging. Tents blown down, cannot stand on feet. Touched out well for breakfast – two rations – good.  Awful cold all day.  Glad when dismounted guard at 5pm, in bed by 6pm.  Tent very shaky. Wonder whether it will stand the night – hope so.
Weather and winds
Once again Summer Hill is buffeted by raging winds which play havoc with the canvas camp. The extreme weather at Summer Hill must have been one of its key features as the memoirs of soldiers who visited the place always mention its hellish weather.  James Scott Anderson, who served as a Scout in Salonika recalled that:
"We were put in tents in this hillside camp and during the night there was a terrific thunderstorm and I think a cloud burst. The flood came right through the camp and nearly washed us and all our belongings back to Salonika"
Lieutenant Victor Farmer of the 1st Suffolk was equally tested, noting:
"The wind blew down the marquees and most of the tents and by nightfall came a heavy frost which effectively prevented the re-erection of the tents; then came the violent blizzard of heavy snow and when we woke on the 4th January we emerged from our fox holes to find a tumultuous area of heavy snow."
Frank will be joining up with his Battalion, the 13th of The Manchester Regiment in a few days time. At present, the Battalion is at the Mindon Camp in Number One Sector, just back from the front line.  In keeping with the challenging weather, its Battalion War Diary for today recorded that 'strong winds from the North prevented aerial activity' however routine patrols were deployed as usual.  Just yesterday, on Frank's birthday,  four soldiers from the Battalion were killed and four wounded during an attack on the Swindon Bath House.  Just a few days ago, Frank experienced his first air raid while attempting to wash.  Keeping clean is obviously a dangerous business for a soldier.
Guard Duty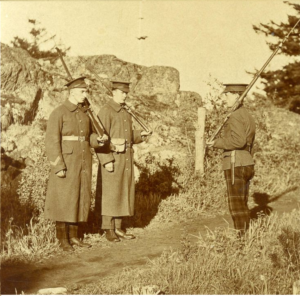 Needless to say guard duty in such conditions was a tough but necessary task. Guard duty in the camps maintained discipline and military order while also ensuring that the camp was secure from any potential intruders or deserters.
References & further reading
Farmer, V. The Weather of the Gods, The Friends of Suffolk, Accessed (08/01/2018)
Walker, A., Anderson, J.S. Service In Salonika, Accessed (08/01/2018)
War Diary of 13th (Service) Battalion, The Manchester Regiment, National Archives