Friday Jan 18th, 1918
Reveille 6:30. Fatigues in morning. Our airmen bombard enemy and enemy too. Air fight afternoon.  Regimental Sergeant Major's and Adjutant's inspection 2:30.  Arms drill. Quiet after tea.  Asked for Shaw lads to be put in same Company.  Said he would do his best.  Quiet night.
Artillery & Air Combat
This is Frank's second day with the Battalion. He is one of the 45 OR (Other Ranks (ie not Officers)) referred to in today's entry in the Battalion War Diary. Frank's morning is taken up with fatigues (non-combat work). However the main talking point, in both Frank's and the Battalion's diary, is the artillery and aerial action.
Trench raiding and intelligence gathering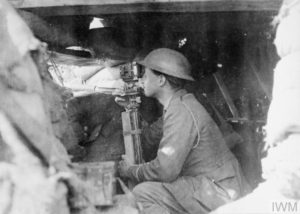 By this stage in the conflict both sides were rather static and there was likely to be a mutual awareness of the general layout of the opposing forces. However, both sides would be also alert to the danger of surprise attacks and manoeuvres.  Therefore, all timely knowledge about the enemy, its activities and movements was valuable. Such information could be acquired by aerial photography,  the vigilance of observation posts and patrols, and the interrogation of captured prisoners.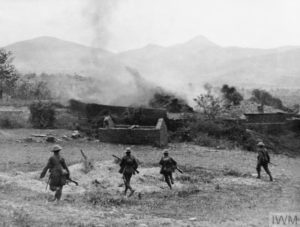 Capturing enemy troops was particularly prized. However, trench raiding and prisoner capture in the hills of Dojran was an especially risky business due to the lay of the land. Often only a thousand yards separated the opposing forces and the land between comprised steep slopes and perilous ravines – lending themselves to ambush.
Nevertheless, the intelligence gathered in this way could save Allied lives and improve the effectiveness of artillery fire. Consequently raiding parties and patrols were sent out almost daily. Even if unsuccessful, as most were, these types of activity reinforced the notion that no-man's land should be continually disputed and enemy forces harried.
13th (Service) Battalion War Diary – 18th January 1918 – Vladaja Camp

Both artilleries took advantage of a bright day and were fairly active. Our planes passed over on their way for a bombing raid. Enemy aircraft were over our lines in the forenoon and the afternoon. 1 OR struck off with effect from 17-1-18. A draft of 45 OR is taken on with effect from 16-1-18.
References & further reading
Wakefield, A. & Moody, S. 2017. Under The Devil's Eye. Pen and Sword Military, Yorkshire
* Forward Observation Post Original source IWM
** British patrol under fire.  Original source IWM