Friday February 8th, 1918
Day work, Johnny very, very quiet and nothing doing at all.  Canteen stuff up ?? fair.
Logistics
It has surprised me, as I get to know a little bit more about the British Army in WWI, how much movement goes on. Whilst it is encouraging that the British Army in wartime is capable of moving resources quickly to where they are needed, it must have been quite a strain logistically.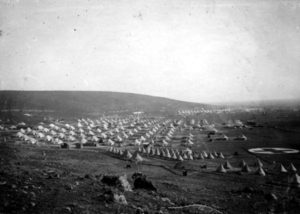 I was reading about the Royal Army Medical Corps recently.  Whole hospitals would arrive (complete with doctors, nurses, operating theatres, tents, beds etc) and then a few months later move on somewhere else.  For example, eight general hospitals were sent to Salonika in summer 1917 because of the volume of malaria cases and the U-boat threat.  These included No 66 from the UK  and 62 and 65 from Malta in July/August 1917. At the same time,  two Canadian General Hospitals left Salonika for the UK.  Then, 'Towards the end of 1917, Nos 62 and 66 General Hospitals were transferred to Italy and No 65 to Mesopotamia.  They were replaced before the summer of 1918 by Nos 80 and 82  from England..'¹
As this photograph shows, these General Hospitals could be rather large.
This logistical issue is echoed, on a lesser scale, in the Battalion's diary today.  One soldier has been despatched for Egypt, another transferred to the Machine Gun Corps (MGC) and eleven moved to the Labour Corps.  Four others have been sent to the Officer Cadet Unit in the UK.
Long Service
I was particularly intrigued by AH Taylor (7239) from B Company who was singled out to go to Egypt.  I could only find out two things about him. First, he was eligible for the 1914-15 Star which meant that he had volunteered and been sent to a theatre of war before the end of 1915 (conscription started in 1916). Second, when he was demobilized in April 1919, he became 'Class Z'.  The Class Z Reserve was created in December 1918.  It comprised mainly of soldiers who had volunteered for 'the duration' (rather than a set period).  The Reserve was to be called upon if Germany did not accept the terms of the Armistice.  When these fears proved unfounded Class Z was disbanded in March 1920.²
13th (Service) Battalion War Diary – 8th February 1918 – Vladaja Camp

No 7239 Taylor AH, B Coy embarked for Egypt 22-1-18 to join Mesopotamia Expeditionary Force. The undermentioned embarked for UK 19-1-18 to join Officer Cadet Unit:- No 9359 CSM Richardson E, D Coy; No 6132 Sgt Widdowfield R, C Coy; No 5106 Cpl King A, C Coy; No 29977  ? Webb E, C Coy. 

3 OR invalided to UK (chronic Malaria) with effect from 21-1-18 and 1 OR with effect from 11-1-18

1 OR transferred to MGC and posted to 66th Coy with effect from 5-2-18

5 OR transferred to Labour Corps (Employment, Base & L of C) with effect from 22-12-17 and 6 OR from 1-1-18
References & Further Reading
¹ Medical Services General History Volume IV by Major-General Sir W.G. Macpherson & Major TJ Mitchell RAMC, 1924, HMSO (pages 90/91)
* image may be subject to copyright
² British Army Reserves & Reservists, The Long Long Trail