Thursday February 14th, 1918
Stand to 5:40. Work morning in camp. Night work 9:30 till 12am. Bombardment.
Observation Post
You will notice that both sides spend a lot of time watching for any sign of the other and trying to determine what they might be up to.  Most importantly they are looking out for evidence of potential attacks or strengthening defences.
This sketch was drawn by Captain Newman of D Company when he was at the Basing Hill observation post in December 1917.  He is looking in a north westerly direction with the lake and Dojran Town in front of him to the right. See the map in yesterday's post for the location of Basing Hill.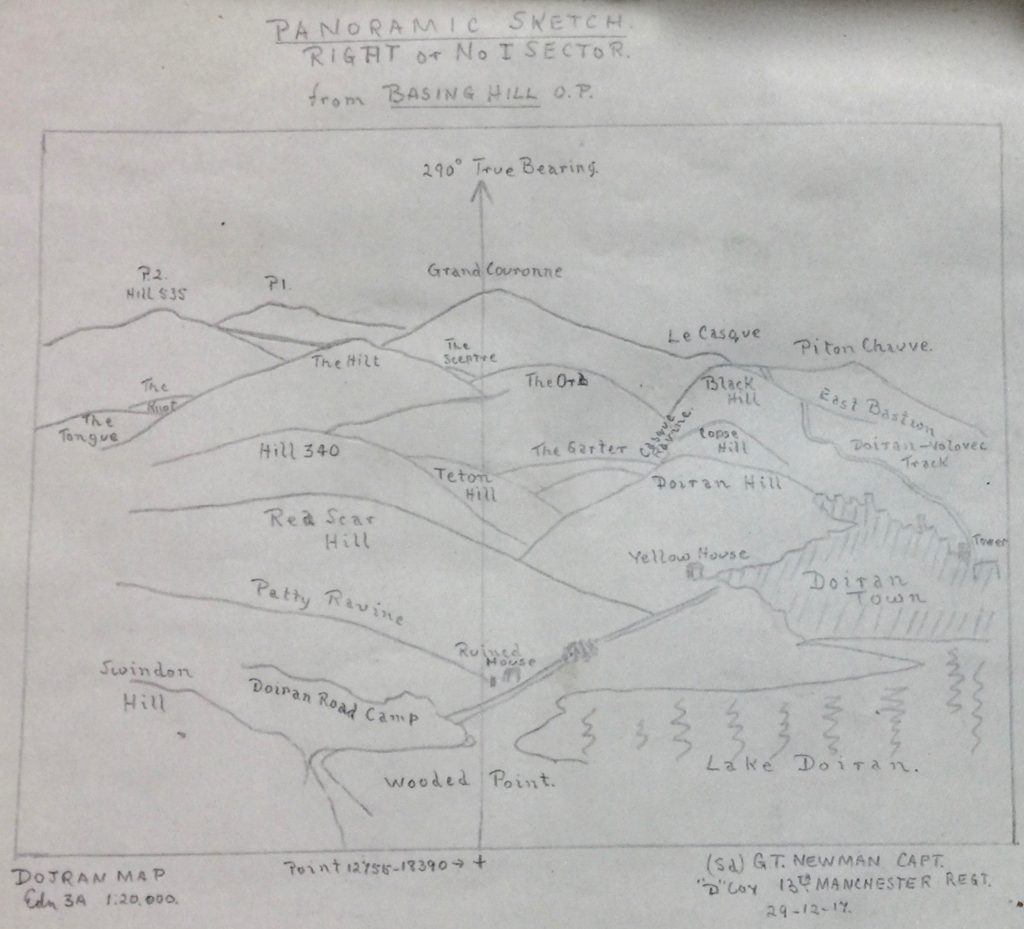 Yesterday, the 13th saw the Bulgarians working on construction of either a gun emplacement or a dugout on Hill 340.  The battalion made a call to an Artillery unit. The diary entry then noted that 'work was stopped' – presumably because the position was fired upon. Today the 13th know more about the work, possibly through a combination of aerial reconnaissance and ground observation. They think that the Bulgarians are building a Pill Box.  There are also new earth works on The Hilt.
You will see Hill 340 about half way up on the left of this sketch, The Hilt just above it and Piton Chauve (the focus of the RFC's aerial attack two days ago) on the horizon on the upper right.  The British front line, trenches and wire defences, although not marked here, run left from the Lake's edge through and around Patty Ravine.  The Dojran Road camp (where D Company is based) is marked just to its south.
To put this in context and check out the map references, you may want to look at the map in yesterday's post.
Patrols
Today 2Lt Hodges and three men reconnoitred the ground around the ruined house (marked on the sketch). The house is just north of the Allied lines.  You will notice from other posts, that occasionally they will find Allied or enemy equipment on these sorties.  It is always retrieved and brought back.  Occasionally they return with more mundane finds.
Around the time that Frank went out on night work today, enemy lights were spotted – the sequence of colours is noted below.  Once again, it is clear that the 13th is trying to determine the message the enemy is sending.  It could be a signal for attack or other action. In this event, nothing seems to happen in reaction to it.
13th (Service) Battalion War Diary – 14th February 1918 – No 1 Sector, Minden Camp 

Both artilleries fairly active throughout the day. Our Trench Mortars fired 2 shells on O1 to which enemy retaliated with heavy Trench Mortar on B4. Machine Guns active on both sides during the night. 2Lt HG Hodges and 3 OR reconnoitred ground in vicinity of ruined house (at 12675-1843) without incident between 24:00 and 02:00 hrs. Other patrols heard a working party on North of Petit Couronne. The work on Hill 340 is a large excavation, probably a 'Pill Box'. Two large heaps of earth are to be seen at pt 12390-1853-5 (The Hilt). Much new work is visible at the East end of O1 (pt 12665-18445). At 21:00 hrs one red very light followed by one green and another single green plus a number of white lights were observed North of Lake Dojran, with no apparent result. 3 OR struck off effective strength under GRO 1011 from 14-2-18
.
References & Further Reading