Saturday Dec 8th, 1917
Reveille 6:30 Breakfast 7:15 C.O. Inspection 10:00 Route march till 11:30. Just like a summer day, sun very strong. More troops arrive at this camp. The camp is beautifully situated and faces the Mediterranean sea. There are a vast number of troops here of every description & badge. Also the Lahore (?) Indian Hospitals and a great number of Indian troops – a great number dying daily from various causes – mostly cold climate.
In Marseilles, en route to Salonika
This is the first day that Frank records in his diary.
Frank Whitehead was a Private in the Manchester Regiment.  He was bound for Salonika to join a multinational Allied force who were fighting the Bulgarian Army and other Central Powers on the Macedonian Front.
A few days before he wrote this entry, Frank and his comrades had travelled from their army training camp on the Yorkshire coast and were now based in the Number 8 Rest Camp in Marseilles.  They had journeyed through Southampton, been sea sick on the English Channel en route to Le Havre and spent three days and nights in the wagons of a train crossing France.  They were designated the '141st draft train'.
Since the beginning of the war, Marseilles had been the main hub for troops both arriving from the French and British colonies and departing to other theatres of war. It must have been a magnificent and alien sight to Frank.
The Indian Army on the Western Front
Troops from the Indian Army were amongst the first colonial troops to arrive in Marseilles after the outbreak of war. They arrived to great fanfare. See stirring film footage of Indian troops and cavalry, many sporting turbans and great beards, parading through the streets of Marseilles: º
Within weeks they were engaged in bloody and costly combat on the Western Front. By autumn 1915, 90,000 Indian troops and 50,000 non-combatants had served in France and Belgium; more than 8,000 had been killed and thousands wounded.²
Despite this, the reference to Indian hospitals and troops is intriguing, because by the time Frank arrived in Marseilles, most of the Indian Army (apart from two cavalry divisions) had left France more than two years earlier.  
Indian Hospitals in Britain & France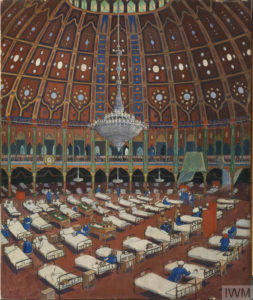 The original plan for looking after the Indian wounded in France had been to repatriate casualties through Marseilles.  However the number and severity of casualties made this totally impractical.³ Instead several Indian hospitals were established on the South East coast of England – most famously in the Royal Pavilion in Brighton.
By late 1915, when the Indian troops were no longer in France, these hospitals had emptied.  Their ex-patients were sent to rejoin their regiments, return home or moved to hospitals in France.  There were several British hospitals in Marseilles that operated during the War, closing only in 1919 and 1920.¹ (Note: There had been a Lahore British General hospital in Marseilles but that had moved to Calais in 1915.  It has been difficult to decipher Frank's writing regarding the name of the hospital – any ideas?)
There are almost a thousand Indian Army soldiers and non-combatants commemorated in the Mazargues Commonwealth War Cemetery in Marseilles.  Most of them died long after the majority of the Indian battalions had left France. The last was a gunner in the Indian Royal Artillery called Mahtab who died in April 1920.  Of the 212 who had died in 1917, 64 of them had died in December – the month that Frank arrived.  It is easy to assume that there was camp chatter about the increasing numbers of dead – whether cold was really to blame for this is anyone's guess.
References & further reading:
º Film footage of 'Troops in the streets of Marseilles' is the copyright of British Pathé
¹ Hospitals of the Western Front – original letter to British Red Cross 07/1923 in The Medical Front WWI
² 'For King & Another Country: Indian Soldiers on the Western Front, 1914-18' (Bloomsbury India) by Shrabani Basu
³ 'Disease, discipline & dissent' Mark Harrison in 'Medicine and Modern Warfare' by Roger Cooter, Mark Harrison et al (ISBN 9789042005464)
* Original source from Imperial War Museums