Sunday Dec 9th, 1917
Began the day at 7 o'clock in Officers Mess. Had a good breakfast and dinner finished at 2. Went on pass to Marseilles with Kent. A modern Babylon full of shame and wickedness. A fine city. Called up for MO's inspection 1:50. Received order for leaving 10 o'clock.
No, Private Frank Whitehead hasn't been promoted.  Frank's attendance at the Officers Mess wasn't as one of the officers but as an orderly for the day.  The good news is that whenever he was assigned to work in the Mess, he always seemed to eat well.
A Modern Babylon?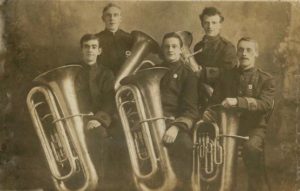 Going into Marseilles must have been quite an experience for Frank.  He was a family man, teetotaller and member of the Salvation Army and of its Brass Band. On the inside cover of his diary he had written in bold, large writing: "GOD IS MINE AND I AM HIS. ARE YOU HIS?".  While it might be expected that over the course of the war, his experiences would broaden his mind and temper his perceptions, this hadn't had a chance to happen yet.
Marseilles is reputed to be one of the earliest settlements in France – its natural harbour on the Mediterranean first having attracted the Greeks in 6th century BC and then the Romans.  As a gateway to the Eastern Mediterranean and the French colonies, by 1914 the city had grown to one with half a million inhabitants.  It had also changed over the course of the war. In addition to being a hub for the comings and goings of Allied troops and supplies, the region also became host to refugees from war torn countries like Belgium and Serbia, and prisoner-of-war camps that ensured enemy prisoners remained far from the Western Front. This is the bustling, troop and diaspora-filled city that Frank would have seen. A modern Babylon indeed.
The good news is that from his diary entry, and regardless of the perils of his destination, it seems that Frank would have been pleased to be moving on.